Reaping profit through stock selling: Huayang (5062)
Have you encounter this situation before?
You buy a stock and the next day the stock price falls. Worrying that you will face huge losses; you buy more stocks to balance up the price per stock on hand.
You only sell when the price goes up, even though there is minimum return. However, when the price falls, you choose to hold and at the end of day, you realise that you are holding a lot of non-valuable stocks.
Majority of people know when to buy a stock, but fail to know when to sell it.
People been emotional and greedy, choose to believe that the uptrend stock will keep going up. However, when the stock price falls shockingly, they are stuck in a critical situation holding unsold stocks.
Selfishly holding on the stocks will not generate profits. It is only valuable and profitable when you sell it.
When the sell timing it right, just sell it!!
Refer to the chart below: Malaysia stock Huayang 5062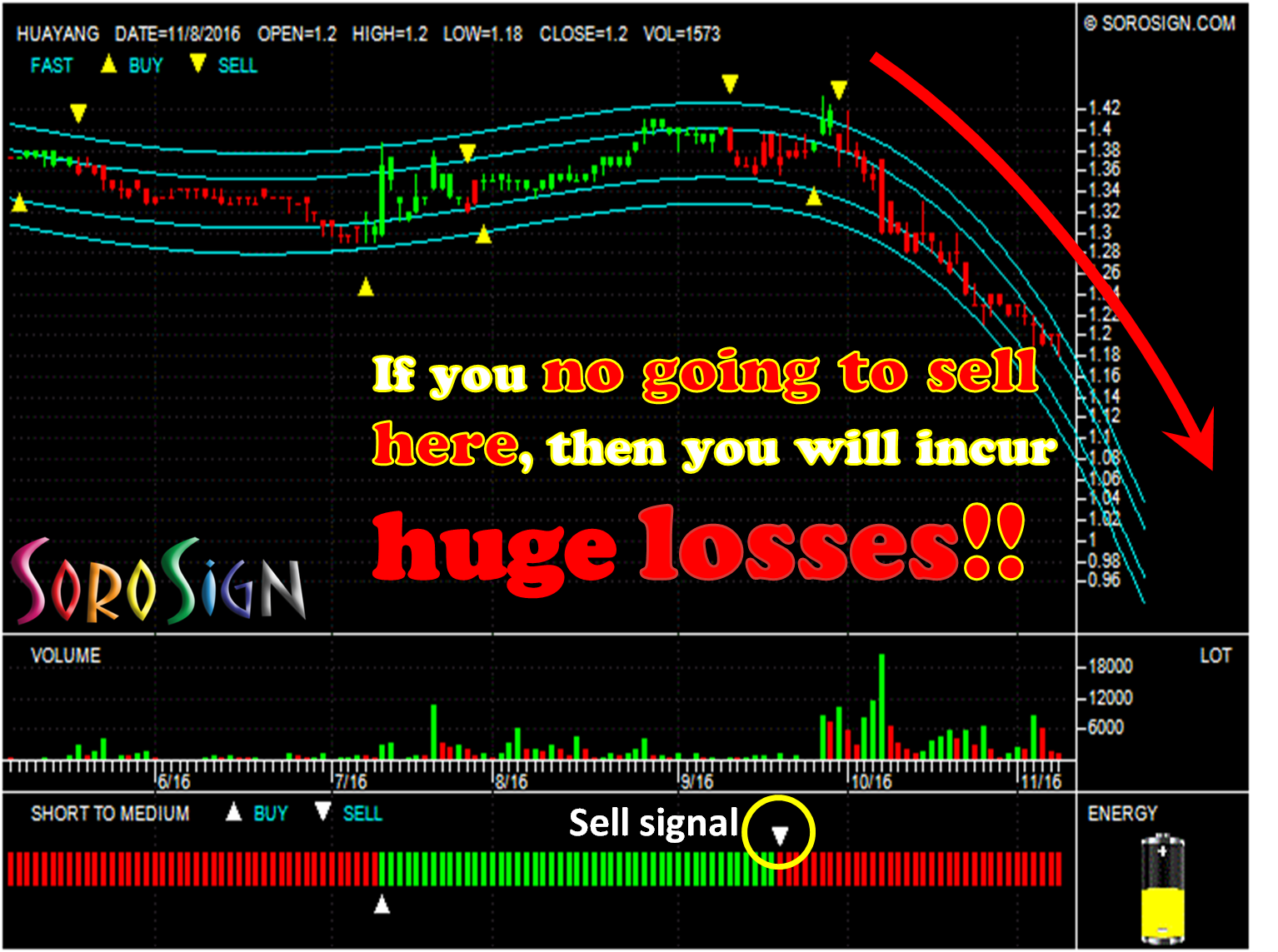 In the mid-month of September, SoroSign Short to Medium RED Sell Signal had occurred. It alerts investor that the stock price had reached peak point and the future trend is expected on downturn soon.
If you have been hesitating to sell at that time; in month October, SoroSign again alerted a second time Sell Signal and if you still persisted in withholding, then you will incur huge losses.
Don't expect a profitable sell timing every day.
"Opportunity seldom knocks twice at a man's door"
In the stock market, you must know when to enter and quit; withholding the stock is not going to make you profitable unless sold. Do not wait for the price to fall and then force sell at a loss.
SoroSign investment software operating rules:
# 1: OLA blue line show upward trend – predict the future trend is moving upward.
# 2: Green buy signal (Short to Medium) appeared, buy.
# 3: OLA blue line turn down – predict the future trend is moving downward.
# 4: Red sell signals (Short to Medium) appeared, sell.
Do not miss the opportunities again! Let SoroSign helps you to solve your problem.
For more information about SoroSign software, please contact us.
Hotline: 012- 475 7723 / 04- 8913 200
WeChat: FatnRich
Facebook page: https:https://www.facebook.com/SoroSignInvestment