Are current investment market conditions suitable for novice investors?
Any intelligent investor will most likely choose to enter the market only when the price is at low and not when its price is surging high.
How to determine when is it high or low?
Refer to the following chart to learn more: Malaysia stock CSC Steel Holdings Berhad CSCSTEL 5094
From the latest SoroSign analysis chart, we observed that majority of investors are entering into the investment arena at high prices.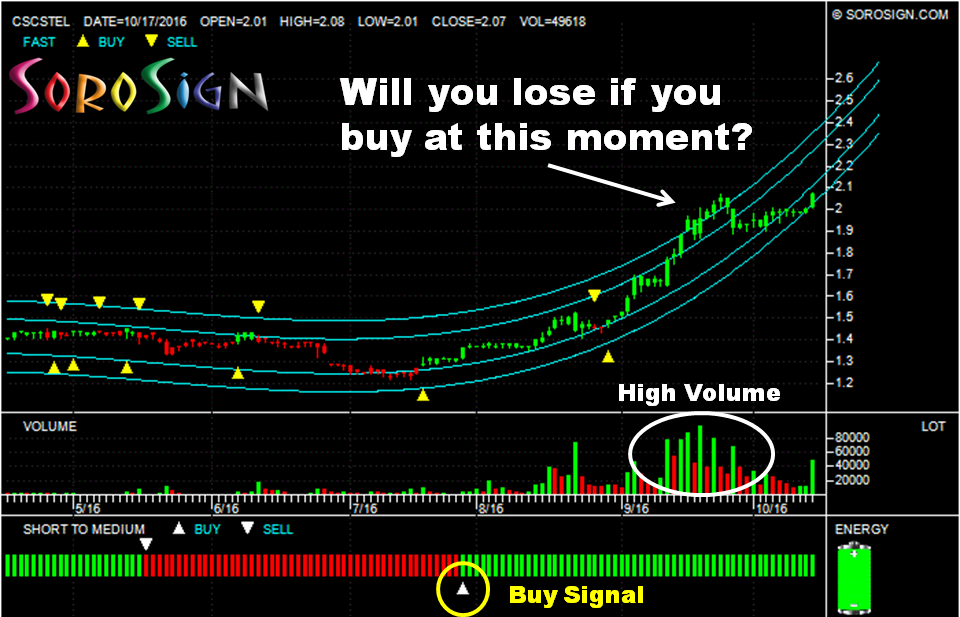 Why are they buying at that time? Buying at high price will result in losing money at a high cost.
So, when is the best time to invest?
SoroSign Short to Medium green buy signals had appeared earlier : thus letting you buy at the lower price.
Most investors fail to consider the 3 important points listed below: (95% investors face these problems)
#1: Approaching the stock when the price is at high, the risk increased arithmetically.
#2: When the stock price is already soared at high, profits will reduce drastically.
#3: Should the stock price drops suddenly, there is insufficient time to sell out.
Even if the high is unattainable, at least take precaution to seek refuge from danger; do not enter when the stock price is on the rise.
Always remembered: Preserve the capitals; staging a comeback is not difficult!
First, comprehend the method to control risks, only then discussed on expanded profits.
SoroSign provides the simplest guide on Stocks and Futures investment method – The Magic Weapon To Win More Lose Less for lucky few!
Welcome for free enquiry at :
Hotline: 012- 475 7723 / 012- 401 7723

WeChat: FatnRich

Facebook fan page: https://www.facebook.com/SoroSignInvestment