[Canadian stocks] How to sell stocks at top price
Every stock will eventually reach its top (maximum) price level. The question is, how can we precisely determine when is the selling point?
Most people will have difficulties determining it unless they have superb analytical skills.
SoroSign software possesses a highly innovative investment model that does not require human analysis; the "AI Artificial Intelligence", and this technology will become a hot topic in the years ahead.
With the rapid development of new investment trends, SoroSign Artificial Intelligence will become a prioritized investment method implementation for this year!
You may not copied Warren Buffett's success skills, but what we have, may somewhat definitely help you realize your investment dreams.
SoroSign do not need expert skills to buy low sell high. From our experience, you not only can do it, but also better it! Of course, you need to be industrious to make all this happen.
Refer to the following chart: Canadian stocks Novo Resources Corp (NVO)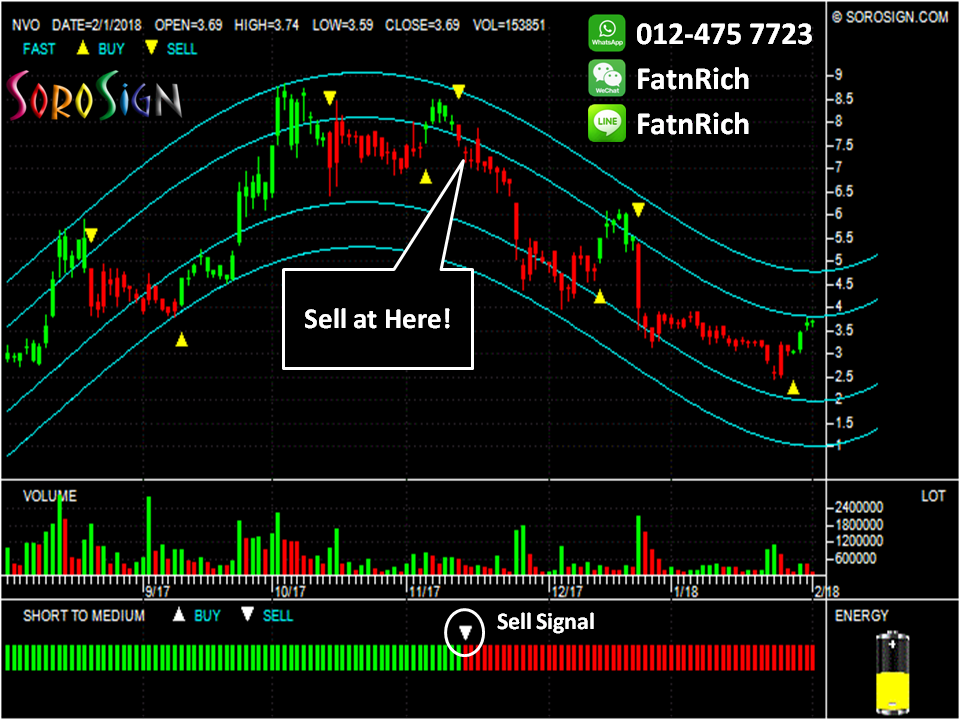 Our chart shows that from the inception of November, NVO's share price has already reached the top; after that the stock price started to decline. Although there is a downturn, yet there are still people trying to enter the market.
So how to determine to sell at the top price?
With SoroSign investment software method; commanding Sell position is pretty simple, only 2 steps to follow:
#1: OLA trend line turn down, predicting the future trend is going downward.
#2: Short to Medium appears Red sell signal, sell it.
Is just that simple, even children can easily comprehend!
So do you want to overcome your determining problem to sell your stock at top price?  Consult us NOW to get SoroSign !
Hotline:04-8913 200 / 201
Mobile Phone:012-401 7723
WeChat:FatnRich
LINE:FatnRich
FaceBook:https://www.facebook.com/SoroSignInvestment
Scans the following QR code to follow our WeChat: