[Futures] FKLI Malaysia Futures Index Soared
Malaysian Futures Index FKLI soared 100 points! Latest international trends; New Asian Opportunities.
S

o

r

o

S

i

g

n

 Intelligent Investment Software, automatically capture the Futures information, without your need to know about index (Futures) and at the same time also capture the trend of the Malaysian Futures.
Taking note of the entire stock market current situation, you will note that beside making money from investing in stock; investing in FKLI Index (Futures) also generate money.
To learn more on the best FKLI Index (Futures) trading strategy, please refer to the instructions below.
Chart from SoroSign Intelligent Trading Software: Malaysian Futures Index Futures FKLI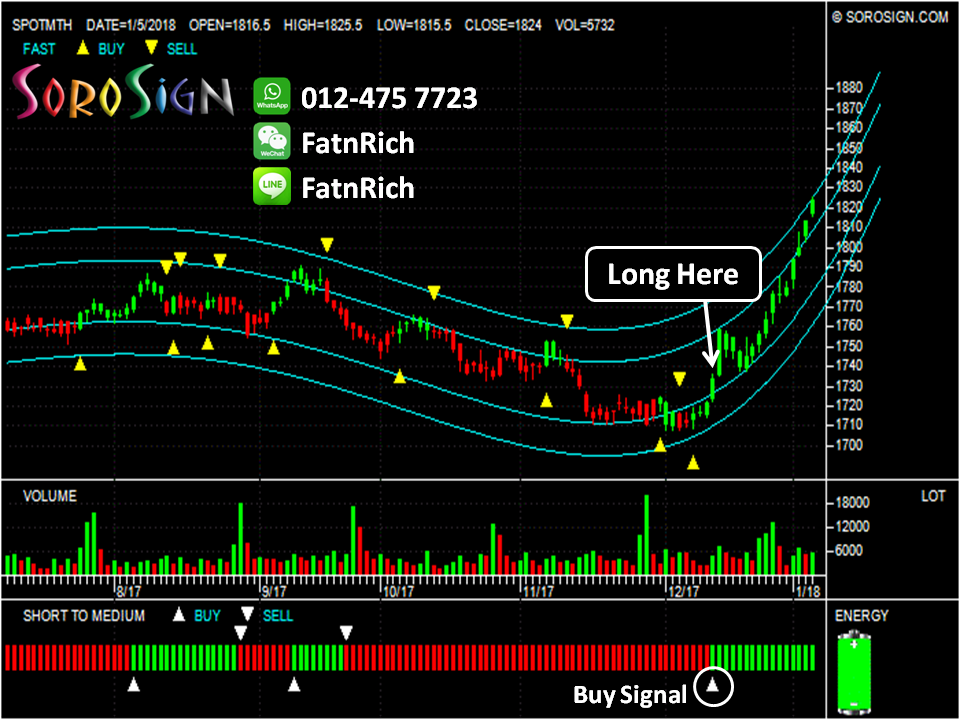 The chart shows, OLA indicate obvious signals that the FKLI trend is moving up and is time to Long (Buy) Futures; the price of Futures FKLI had risen from 1723 to 1825. Within less than a month, the increment had crept up to 100 points from the start.
1 lot : 1 x 100 points x RM50 = RM5,000 (profit)
2 lots : 1 x 100 points x RM50 = RM10,000 (profit)
Thus investing in stock market as well as in Futures to generate more money. A two-way income!
Eager to learn tips on trading FUTURES …? Join our free training course today.
Hotline : 04-8913 200 / 201
Contact : 012-475 7723 / 012-401 7723
WeChat : FatnRich
LINE : FatnRich
Facebook Fan Page : https://www.facebook.com/SoroSignInvestment