The soaring Malaysia Stock HBGLOB 5187
Malaysia Stock HBGLOB 5187 had soared to more than 300% profits. In the unpredictable stock market; to buy before the beginning of the soaring point of the stock is extremely difficult. However, it will be different if you have a reliable investment software.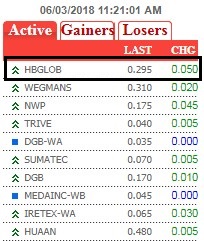 HBGLOB 5187 reached peak volume trading yesterday, and everyone is rushing to buy or sell it.
Are you one of them?
If so, then it is time to make some changes.
SoroSign Artificial Intelligent  (A.I.) Investment software automatically helps you analyze the stock information and you only need a little understanding about it.
95% of people are blindly purchasing the stock at the high price hoping to gain profits within a short term period. But why are they purchasing after the beginning of the rising point and not before?
Things will have been different if you are owning a reliable investment software, base on the chart below:
SoroSign is an investment software with the latest Artificial Intelligent technology coupled with innovative investment model Unmanned Analysis, which can assist you to find potential stocks within the stock market, and simultaneously help you to analyze the best timing to purchase or sell the stock.
Based on the analysis of HB Global Ltd stock; by using SoroSign, you only have to follow 2 steps :
#1: OLA blue line turn up, predicting the future trend is going upward.
#2: Short to Medium appears Green Buy signal, Buy it.
With such simple operations, investors using SoroSign can gain more than 300% profits within a few days. This clearly illustrate how powerful SoroSign is.
People say that opportunities do not knock on the door twice, so you must seized it before you regret later. We have shown you the crucial ways to make profit and the final decision is up to you to decide to subscribe our SoroSign that will help you change your investment method for good! Avoid losses to earn more profits.
Do not hesitate to contact us for details about SoroSign NOW!
Hotline: 04-8913 200 / 201
Mobile Phone: 012-475 7723 / 012-401 7723
WeChat: SoroSign
LINE: SoroSign
Facebook: https://www.facebook.com/SoroSignInvestment
Scans the following QR code to follow our WeChat: